'Magic-GROW' Fertilizer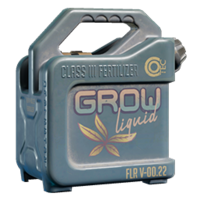 | | |
| --- | --- |
| Type | Farming |
| Rarity | Uncommon |
| Spawn Locations | BS CF TI |
| Weight | 7 |
| K-Marks | 338 |
| K-Marks / Weight | 48 |
| Faction Reputation | 3 |
| Faction Rep / Weight | 0.4 |
Magic-GROW Fertilizer is an

Uncommon item found as loot on Fortuna III. This item can typically be found inside coolers at Osiris structures, or at Nutrion Farms Processing and Nutrion Farms Warehouse.
Description
A powerful and sweet smelling chemical, can be processed to help manufacture other items.
Don't ingest within 6 hours of consuming any fruits or nuts. Or ideally ever.
Location
Can be found in Coolers. Can

Uncommonly be found on ground around Woodcutter Camp on Bright Sands with competing spawns for Azure Tree Bark.
Uses