Derelict Explosives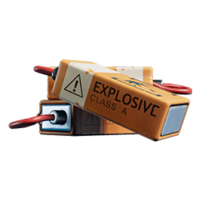 | | |
| --- | --- |
| Type | Construction |
| Rarity | Uncommon |
| Spawn Locations | BS CF TI |
| Weight | 5 |
| K-Marks | 1709 |
| K-Marks / Weight | 342 |
| Faction Reputation | 17 |
| Faction Rep / Weight | 3.4 |
Derelict Explosives is an

Uncommon item found as loot on Fortuna III. It can most commonly be found in Korolev buildings.
Description
Fortuna IIIs settlers took to using explosives to both mold the environment to their liking and get rid of the local pests. Can still be sold on the station, for fireworks of course.
Location
It can be found in Dumpsters in high danger areas.
It's an extremely rare find in Bright Sands.
Uses