Abyss Alloy is a

Legendary item gotten as rare side effect from using The Forge.
Abyss Alloy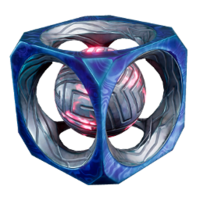 | | |
| --- | --- |
| Type | Alien |
| Rarity | Legendary |
| Spawn Locations | [BS] [CF] [TI] |
| Weight | 10 |
| K-Marks | 12975 |
| K-Marks / Weight | 1297 |
| Faction Reputation | 130 |
| Faction Rep / Weight | 13 |
Description
A sphere of processed and activated Tharis Iron impossibly locked in place.
Gives an aura of infinite potential.
The Forge
Abyss Alloy is a rare by-product from The Forge. It has an 15% chance of being in the resulting items after using The Forge to alter a piece of gear. Using an

Abyss Alloy in the forge gives a random

Exotic or

Legendary Armor or Backpack.
There is a 95% chance of getting an

Exotic item, and a 5% chance of getting a

Legendary item. The gear is altered with a random set of compatible gear perks.
Forging time
Spawn location
Abyss Alloy can be found in many locations of Fortuna III. Find all of its spawns on our Interactive Map: [BS] [CF] [TI].
Specifically, it can be found in the following Loot Containers, depending on the tier. This list does not include non-container or special spawns.
Uses