Portable Lab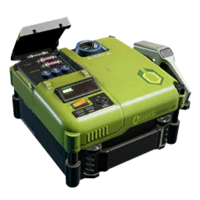 | | |
| --- | --- |
| Type | Scientific, Electronic |
| Rarity | Epic |
| Spawn Locations | [BS] [CF] [TI] |
| Weight | 15 |
| K-Marks | 3845 |
| K-Marks / Weight | 256 |
| Faction Reputation | 38 |
| Faction Rep / Weight | 2 |
A Portable Lab is an

Epic item found as loot on Fortuna III. This item can be found in high or extreme danger area's in low quantities. It can also get acquired through Printing.
Description
A full lab in a box, also contains all sorts of specialized equipment and materials that can be repurposed.
Loaded with delicate tools, sensitive software, and no manual.
Spawn location
Portable Lab can be found in many locations of Fortuna III. Find all of its spawns on our Interactive Map: [BS] [CF] [TI].
Specifically, it can be found in the following Loot Containers, depending on the tier. This list does not include non-container or special spawns.
Spawn chance per container

| Container | Max spawn chance |
| --- | --- |
| Suit Case Tier 1 | 0.24% |
| Suit Case Tier 2 | 0.47% |
| Suit Case Tier 3 | 0.88% |
| Suit Case Tier 4 | 1.19% |
| Suit Case Tier 5 | 2.38% |
| Osiris Filing Cabinet Tier 2 | 0.87% |
| Osiris Filing Cabinet Tier 3 | 1.63% |
| Osiris Filing Cabinet Tier 4 | 2.2% |
| Osiris Filing Cabinet Tier 5 | 4.4% |
| Luggage Tier 1 | 0.24% |
| Luggage Tier 2 | 0.51% |
| Luggage Tier 3 | 0.96% |
| Luggage Tier 4 | 1.29% |
| Luggage Tier 5 | 2.58% |
Printing recipe
This item can be printed at the gear printer using the following recipe:
Uses