Waterweed Filament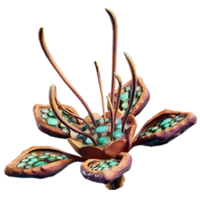 | | |
| --- | --- |
| Type | Flora |
| Rarity | Uncommon |
| Spawn Locations | [BS] [CF] [TI] |
| Weight | 2 |
| K-Marks | 228 |
| K-Marks / Weight | 114 |
| Faction Reputation | 2 |
| Faction Rep / Weight | 1 |
Waterweed Filament is an

Uncommon item found as loot on Fortuna III.
Description
The pollen filament of a Waterweed, a plant that can only be harvested around water bodies such as lakes or swamps on Fortuna III. The blossoms themselves are worthless, but these Filaments fetch a decent price on Prospect Station.
Location
Can be found at the Rock Pools, Swamp and Waterfall Region on Bright Sands.
Spawn location
Waterweed Filament can be found in many locations of Fortuna III. Find all of its spawns on our Interactive Map: [BS] [CF] [TI].
Specifically, it can be found in the following Loot Containers, depending on the tier. This list does not include non-container or special spawns.
Spawn chance per container

| Container | Max spawn chance |
| --- | --- |
| Alien Vent Tier 5 | 8.93% |
Uses