Waterweed Filament
Jump to navigation
Jump to search
Waterweed Filament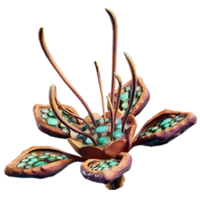 | | |
| --- | --- |
| Type | Flora |
| Rarity | Uncommon |
| Weight | 2 |
| K-Marks | 228 |
| K-Marks / Weight | 114 |
| Faction Reputation | 2 |
| Faction Rep / Weight | 1 |
Waterweed Filament is an Uncommon item found as loot on Fortuna III.
In-Game description
The pollen filament of a Waterweed, a plant that can only be harvested around water bodies such as lakes or swamps on Fortuna III. The blossoms themselves are worthless, but these Filaments fetch a decent price on Prospect Station.
Location
Can be found at the Rock Pools, Swamp and Waterfall Region on Bright Sands.
Uses
This item is used in the following missions, jobs, upgrades, printing recipes:
Missions
This item is required a total of 55 times to complete the following missions.
| | |
| --- | --- |
| 3× | Dangerous Science Part 2 |
| 12× | Lost Knowledge Part 1 |
| 25× | The Needs of the One Part 2 |
| 15× | Path to Strong Medkits Part 1 |
Jobs
This item is required to complete the following jobs.
| | |
| --- | --- |
| 6× | Calorie Deficit |
| 10× | Mouths to feed |
| 8× | Gluttony |
| 8× | Cross-Breeding |
Personal Quarter
Waterweed Filament is used in the following Personal Quarters upgrades
Generator Upgrades
None
Inventory Upgrades
| Inventory | Level | Upgrade | Quantity |
| --- | --- | --- | --- |
| Stash Size | 2 | 2/3 | 3x |
Workbench Upgrades
None
Quarters Upgrades
None