Waterweed Filament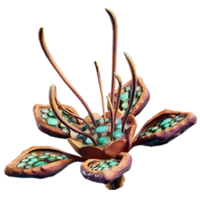 | | |
| --- | --- |
| Type | Flora |
| Rarity | Uncommon |
| Spawn Locations | BS CF TI |
| Weight | 2 |
| K-Marks | 228 |
| K-Marks / Weight | 114 |
| Faction Reputation | 2 |
| Faction Rep / Weight | 1 |
Waterweed Filament is an

Uncommon item found as loot on Fortuna III.
Description
The pollen filament of a Waterweed, a plant that can only be harvested around water bodies such as lakes or swamps on Fortuna III. The blossoms themselves are worthless, but these Filaments fetch a decent price on Prospect Station.
Location
Can be found at the Rock Pools, Swamp and Waterfall Region on Bright Sands.
Uses