'Fusion Cartridge' Batteries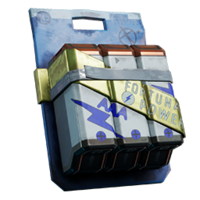 | | |
| --- | --- |
| Type | Housing |
| Rarity | Common |
| Spawn Locations | BS CF TI |
| Weight | 3 |
| K-Marks | 150 |
| K-Marks / Weight | 50 |
| Faction Reputation | 2 |
| Faction Rep / Weight | 0.7 |
Fusion Cartridge Batteries is a

Common item found as loot on Fortuna III. This item is typically found in low quantities everywhere, but Lagoon (Bright Sands) has high quantities of them.
Description
A pack of high-powered, slightly radioactive batteries. Safe to use in most electronic devices.
Not actually fusion powered, but still worringly radioactive.
Location
Can be found in Civilian Lockers. It can also be found as loose loot in residential areas, like Lagoon in Bright Sands or the scattered houses in Crescent Falls.
Uses