Salvaged Insulation
Jump to navigation
Jump to search
Salvaged Insulation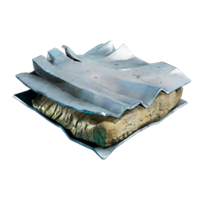 | | |
| --- | --- |
| Type | Generic |
| Rarity | Common |
| Weight | 5 |
| Sell value | 338 |
| Value per weight | 68 |
| Faction Points | 3 |
| Faction reputation per weight | 0.6 |
Salvaged Insulation is a Common item found as loot on Fortuna III. It can be found in abundance everywhere.
In-Game description
Even outside of its intended purpose, the materials still have various uses in item printing. Yes, its asbestos.
Location
Can be found in any Structures and Containers
Uses
This item is used in the following missions, jobs, upgrades, printing recipes:
Missions
This item is required a total of 30 times to complete the following missions.
| | |
| --- | --- |
| 10× | Crafting Better Bags Part 2 |
| 20× | Orbital Repairs Part 3 |
Jobs
This item is not required to complete any jobs.
Personal Quarter
Salvaged Insulation is used in the following Personal Quarters upgrades
Generator Upgrades
| Generator | Level | Upgrade | Quantity |
| --- | --- | --- | --- |
| K-Mark Cap | 1 | 4/4 | 3x |
| K-Mark Cap | 5 | 3/5 | 21x |
| Supply Crate | 3 | 2/2 | 8x |
Inventory Upgrades
None
Workbench Upgrades
None
Quarters Upgrades
| Quarters | Level | Upgrade | Quantity |
| --- | --- | --- | --- |
| Quarters | 3 | 1/1 | 6x |