Salvaged Insulation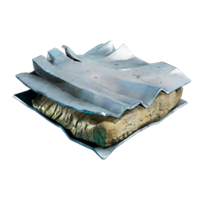 | | |
| --- | --- |
| Type | Generic |
| Rarity | Common |
| Spawn Locations | [BS] [CF] [TI] |
| Weight | 5 |
| K-Marks | 338 |
| K-Marks / Weight | 67 |
| Faction Reputation | 3 |
| Faction Rep / Weight | 0 |
Salvaged Insulation is a

Common item found as loot on Fortuna III. It can be found in abundance everywhere.
Description
Even outside of its intended purpose, the materials still have various uses in item printing. Yes, its asbestos.
Spawn location
Salvaged Insulation can be found in many locations of Fortuna III. Find all of its spawns on our Interactive Map: [BS] [CF] [TI].
Specifically, it can be found in the following Loot Containers, depending on the tier. This list does not include non-container or special spawns.
Spawn chance per container

| Container | Max spawn chance |
| --- | --- |
| Industrial Container Tier 1 | 15.91% |
| Industrial Container Tier 2 | 23.19% |
| Industrial Container Tier 3 | 15.67% |
| Industrial Container Tier 4 | 25% |
| Industrial Container Tier 5 | 22.73% |
| Dumpster Tier 1 | 11.36% |
| Dumpster Tier 2 | 21.74% |
| Dumpster Tier 3 | 26.12% |
| Dumpster Tier 4 | 30% |
| Dumpster Tier 5 | 27.27% |
| Hidden Stash Tier 1 | 1.21% |
| Hidden Stash Tier 2 | 1.34% |
| Hidden Stash Tier 3 | 1.39% |
| Hidden Stash Tier 4 | 1.38% |
| Hidden Stash Tier 5 | 1.35% |
| Civilian Locker Tier 1 | 13.64% |
| Civilian Locker Tier 2 | 26.09% |
| Civilian Locker Tier 3 | 31.34% |
| Civilian Locker Tier 4 | 30% |
| Civilian Locker Tier 5 | 40.91% |
Uses