Flawed Veltecite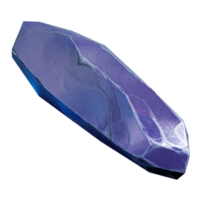 | | |
| --- | --- |
| Type | Resource |
| Rarity | Common |
| Spawn Locations | [BS] [CF] [TI] |
| Weight | 3 |
| K-Marks | 150 |
| K-Marks / Weight | 50 |
| Faction Reputation | 2 |
| Faction Rep / Weight | 0 |
Flawed Veltecite is a common ore found on Fortuna III. It is abundant close to water.
Description
While relatively low in value, flawed veltecite is still valuable enough to be worth taking a pickaxe to some rocks.
Location
Can be found all over Fortuna III especially as harvestable ores around rivers and lakes.
Spawn location
Flawed Veltecite can be found in many locations of Fortuna III. Find all of its spawns on our Interactive Map: [BS] [CF] [TI].
Specifically, it can be found in the following Loot Containers, depending on the tier. This list does not include non-container or special spawns.
Spawn chance per container

| Container | Max spawn chance |
| --- | --- |
| Industrial Container Tier 1 | 9.95% |
| Industrial Container Tier 2 | 10.08% |
| Industrial Container Tier 3 | 16.11% |
| Industrial Container Tier 4 | 14.96% |
| Industrial Container Tier 5 | 13.04% |
| Veltecite Mineral Tier 1 | 127.88% |
Uses