Print Resin
Jump to navigation
Jump to search
Print Resin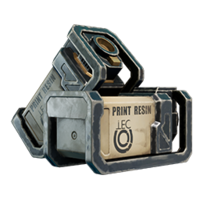 | | |
| --- | --- |
| Type | Generic |
| Rarity | Uncommon |
| Weight | 3 |
| K-Marks | 1709 |
| K-Marks / Weight | 570 |
| Faction Reputation | 17 |
| Faction Rep / Weight | 5.7 |
Print Resin is an Uncommon item found as loot on Fortuna III.
In-Game description
Can be loaded into most printers to print the base components of almost anything, from rubber ducks to weapon parts.
Location
Can be found in any Structures or Containers.
Uses
This item is used in the following missions, jobs, upgrades, printing recipes:
Missions
This item is required a total of 2 times to complete the following missions.
| | |
| --- | --- |
| 2× | Crafting Better Bags Part 1 |
Jobs
This item is not required to complete any jobs.
Personal Quarter
Print Resin is used in the following Personal Quarters upgrades
Generator Upgrades
| Generator | Level | Upgrade | Quantity |
| --- | --- | --- | --- |
| K-Marks Rate | 5 | 5/5 | 12x |
| K-Marks Cap | 2 | 2/5 | 1x |
| Aurum Rate | 4 | 5/5 | 6x |
Inventory Upgrades
| Inventory | Level | Upgrade | Quantity |
| --- | --- | --- | --- |
| Stash Size | 6 | 2/3 | 8x |
Workbench Upgrades
| Workbench | Level | Upgrade | Quantity |
| --- | --- | --- | --- |
| Quarters Upgrade Time | 4 | 1/3 | 1x |
Quarters Upgrades
| Quarters | Level | Upgrade | Quantity |
| --- | --- | --- | --- |
| Quarters | 8 | 1/1 | 16x |