Interactive Screen
Jump to navigation
Jump to search
Interactive Screen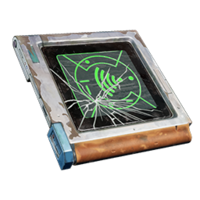 | | |
| --- | --- |
| Type | Electronic |
| Rarity | Rare |
| Weight | 6 |
| K-Marks | 1709 |
| K-Marks / Weight | 285 |
| Faction Reputation | 17 |
| Faction Rep / Weight | 2.8 |
An Interactive Screen is a Rare item found as loot on Fortuna III. This item is typically found in high or extreme danger area's.
In-Game description
Interactive Screens were common among civilians on Fortuna III, used for all sorts of purposes. Cached data and basic components give them some selling value.
Location
Can be found in Briefcases and Luggage.
Uses
This item is used in the following missions, jobs, upgrades, printing recipes:
Missions
This item is required a total of 5 times to complete the following missions.
Jobs
This item is required to complete the following jobs.
| | |
| --- | --- |
| 2× | Surveillance Center |
| 2× | Sensor Array Repairs |
| 3× | Technical Supplies |
| 3× | NEW-Hard-Osiris-Gather-7 |
Personal Quarter
Interactive Screen is used in the following Personal Quarters upgrades
Generator Upgrades
| Generator | Level | Upgrade | Quantity |
| --- | --- | --- | --- |
| K-Mark Cap | 5 | 2/5 | 5x |
| Aurum Rate | 7 | 1/5 | 5x |
| Aurum Cap | 7 | 4/5 | 9x |
Inventory Upgrades
None
Workbench Upgrades
None
Quarters Upgrades
| Quarters | Level | Upgrade | Quantity |
| --- | --- | --- | --- |
| Quarters | 7 | 1/1 | 7x |