KARMA-1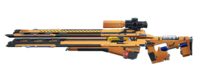 The KARMA-1 is a

Legendary sniper rifle only available through Printing. It features a charge-up before shooting, and is capable of killing any prospector in one hit on a head shot.
Attachments
The KARMA-1 is not able to have any Attachments installed.
Description
While heavy and requiring a charge-up to fire, a direct hit from the KARMA-1 will cripple if not outright kill any target, and the raw kinetic power will damage anything near the impact area.
Lore
The Korolev Advanced Recursive Magnetic Artillery, first prototype, is a miniaturization of the sort of weaponry more commonly found on warships, offered exclusively to the Prospectors for early testing. While no longer powerful enough to take down a spacecraft, it's more than enough to handle the threats of Fortuna III.
Prototype Variant
More accurately called the KARMA-XT, prototypes like this were built on Fortuna III and tested extensively in the field, mostly against harmless wildlife. Features a less powerful battery than the KARMA-1 release version.
The Prototype variant of the KARMA-1 has the following changed statistics:
The Prototype version of the KARMA-1 can only be found as loot on Fortuna III, which means it can't be crafted or bought in Prospect Station.
Weapon Comparison and Detailed Stats
For a comparison between this and other weapons, as well as an overview on its detailed stats, visit the Weapon Calculator
Cosmetics
This is an incomplete list of all cosmetics for the KARMA-1 in The Cycle: Frontier.

This list makes no guarantee of availability or completeness. Some cosmetics might no longer be in the shop rotation, be from the Fortuna Pass of a past season, be from a special promotion, or be otherwise exclusive.
Update history
Added Prototype variant
Changed ammo type to Blaze Heavy Ammo
Decreased equip time from 1 to 0.9 seconds
Increased unequip time from 0.5 to 0.7 seconds
Increased magazine size from 2 to 5
Karma SFX overhaul