KARMA-1
Jump to navigation
Jump to search
KARMA-1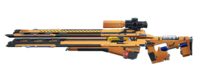 | | |
| --- | --- |
| Weapon Type | Sniper |
| Rarity | Legendary |
| Faction | ADD FACTION MANUALLY |
| Unlock Level | ADD FACTION LEVEL MANUALLY |
| Weight | 60 |
| Buy Price | ADD BUY VALUE MANUALLY |
| Faction Reputation | 3255 |
| Damage | 75 |
| Weakspot Multiplier | 2 |
| Penetration | 31 |
| Firerate | 1.4 |
| Projectile Speed | 60000 |
| Movement Multiplier | 0.8 |
| Reload time | 4.4s |
| Magazine Size | 2 |
Summary
The KARMA-1 is a legendary sniper rifle only available through Printing. It features a charge-up before shooting, and is capable of killing any prospector in one hit on a head shot.
Attachments
The KARMA-1 is not able to have any Attachments installed.
In-Game Description
While heavy and requiring a charge-up to fire, a direct hit from the KARMA-1 will cripple if not outright kill any target, and the raw kinetic power will damage anything near the impact area.
Lore
The Korolev Advanced Recursive Magnetic Artillery, first prototype, is a miniaturization of the sort of weaponry more commonly found on warships, offered exclusively to the Prospectors for early testing. While no longer powerful enough to take down a spacecraft, it's more than enough to handle the threats of Fortuna III.
Detailed Stats
| Stat | Value |
| --- | --- |
| Ammo Type | Heavy Ammo |
| Direct Damage | 75 Damage |
| Weakspot Multiplier | 2× |
| Penetration | 35 Penetration |
| Refire Rate | 1.4s |
| Rounds per minute (RPM) | 42.86 Shots |
| Projectile Speed | 600 m/s |
| Magazine Size | 2 Bullets |
| Reload Time | 4.4s |
| Equip Time | 1s |
| Unequip Time | 0.5s |
Update History