KOMRAD
Jump to navigation
Jump to search
KOMRAD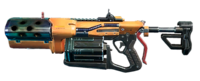 | | |
| --- | --- |
| Weapon Type | Launcher |
| Rarity | Legendary |
| Faction | - |
| Unlock Level | - |
| Weight | 60 |
| Buy Price | 993,000 |
| Faction Reputation | 2978 |
| Damage | 0 |
| Weakspot Multiplier | 1 |
| Penetration | 31 |
| Firerate | 1 |
| Projectile Speed | 4000 |
| Movement Multiplier | 0.8 |
| Reload time | 2.9s |
| Magazine Size | 6 |
Summary
The KOMRAD is a Legendary missile launcher developed by Korolev. It fires slow missiles that explode upon impact with a creature or an object. It can only be obtained by Printing one in Prospect Station.
In-Game Description
This fearsome weapon platform is capable of firing salvos of fast-moving missiles capable of making short work of any hostile element.
Lore
Short for Korolev Ozone-powered Micro Rocket Assault Device, the KOMRAD is one of the most destructive weapon systems developed by the megacorp, and one of its most expensive.
Detailed Stats
| Stat | Value |
| --- | --- |
| Ammo Type | Special Ammo |
| Direct Damage | 0 Damage |
| Weakspot Multiplier | 1× |
| Explosive Damage | 100 Damage |
| Penetration | 40 Penetration |
| Refire Rate | 1s |
| Rounds per minute (RPM) | 60 Shots |
| Projectile Speed | 40 m/s |
| Magazine Size | 6 Bullets |
| Reload Time | 2.9s |
| Equip Time | 0.5s |
| Unequip Time | 0.5s |