Manticore
Jump to navigation
Jump to search
Manticore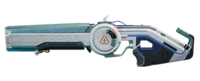 | | |
| --- | --- |
| Weapon Type | AR |
| Rarity | Uncommon |
| Faction | Osiris |
| Unlock Level | 5 |
| Weight | 35 |
| Buy Price | 9,000 |
| Faction Reputation | 27 |
| Damage | 13 |
| Weakspot Multiplier | 1.7 |
| Penetration | 17 |
| Firerate | 0.12 |
| Projectile Speed | 26000 |
| Movement Multiplier | 0.9 |
| Reload time | 3.35s |
| Magazine Size | 24 |
Summary
The Manticore is a versatile Uncommon Assault Rifle created by Osiris.
Attachments
The Manticore can have 8 different Attachments installed on it, one for each slot. The type of attachment must be compatible with the weapons type, so only attachments that have Assault Rifle as a category can be installed onto a Manticore.
In-Game Description
A flechette assault rifle, it's heavy hitting but less accurate compared to other rifles.
Lore
Intended for use in pressurised environments, the Manticore was designed for more militaristic use than the compact ASP. Lightweight, accurate, and lethal, it's seen use by marines both performing as and defending against boarding parties.
Comparison
| Item Name | Type | Faction | Buy Price | Sell Price | Rarity | Weight | Crit Multi | Damage | Pen | Mag Size | RPM | Reload Time | Proj. Dmg | # of Proj. |
| --- | --- | --- | --- | --- | --- | --- | --- | --- | --- | --- | --- | --- | --- | --- |
| Advocate | AR | ICA | 76,000 | 22,781 | Epic | 35 | 1.7 | 9 | 25 | 24 | 667 | 3.2 | 10 | 1 |
| Manticore | AR | Osiris | 9,000 | 2,709 | Uncommon | 35 | 1.7 | 13 | 15 | 24 | 500 | 3.35 | 13 | 1 |
| Phasic Lancer | AR | Osiris | 31,000 | 9,336 | Rare | 35 | 1.7 | 13 | 20 | 21 | 231 | 2.45 | 13 | 1 |
| Gorgon | AR | Osiris | 76,000 | 22,781 | Epic | 35 | 1.3 | 4 | 25 | 24 | 353 | 2.0 | 4 | 1 |
| KOR-47 | AR | Korolev | 210,000 | 63,080 | Exotic | 35 | 1.7 | 13 | 30 | 26 | 500 | 3.2 | 15 | 1 |
| AR-55 Autorifle | AR | Station | 1,700 | 524 | Common | 35 | 1.7 | 13 | 10 | 22 | 462 | 2.75 | 13 | 1 |
Detailed Stats
| Stat | Value |
| --- | --- |
| Ammo Type | Medium Ammo |
| Direct Damage | 13 Damage |
| Weakspot Multiplier | 1.7× |
| Penetration | 15 Penetration |
| Refire Rate | 0.12s |
| Rounds per minute (RPM) | 500 Shots |
| Projectile Speed | 260 m/s |
| Magazine Size | 24 Bullets |
| Reload Time | 3.35s |
| Equip Time | 1s |
| Unequip Time | 0.5s |
Update History
Increased projectile speed from 24000 to 26000
Damage reduced from 13 to 12
Reduced weight from 50 to 35
Damage increased from 11 to 13