Lacerator
Jump to navigation
Jump to search
Lacerator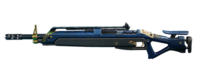 | | |
| --- | --- |
| Weapon Type | DMR |
| Rarity | Rare |
| Faction | ICA |
| Unlock Level | 9 |
| Weight | 50 |
| Buy Price | 41,000 |
| Faction Reputation | 122 |
| Damage | 27 |
| Weakspot Multiplier | 1.5 |
| Penetration | 23 |
| Firerate | 0.4 |
| Projectile Speed | 35000 |
| Movement Multiplier | 0.9 |
| Reload time | 2.55s |
| Magazine Size | 16 |
Summary
The Lacerator is a Rare DMR weapon that is versatile at medium ranges. It is unlocked through ICA.
Attachments
The Lacerator can have 8 different Attachments installed on it, one for each slot. The type of attachment must be compatible with the weapons type, so only attachments that have Assault Rifle as a category can be installed onto a Lacerator.
In-Game Description
A capable marksman rifle boasting a decent fire rate, accuracy, and handling.
Lore
Building upon the the ICA's own Shattergun, this battle rifle is tuned to discharge the crystaline shards it uses as ammunition in a more controlled and accurate burst.
Detailed Stats
| Stat | Value |
| --- | --- |
| Ammo Type | Heavy Ammo |
| Direct Damage | 27 Damage |
| Weakspot Multiplier | 1.5× |
| Penetration | 20 Penetration |
| Refire Rate | 0.4s |
| Rounds per minute (RPM) | 150 Shots |
| Projectile Speed | 350 m/s |
| Magazine Size | 16 Bullets |
| Reload Time | 2.55s |
| Equip Time | 1s |
| Unequip Time | 0.5s |
Update History
Reduced recoil
Removed damage falloff
Damage increased from 25 to 27