KBR Longshot
Jump to navigation
Jump to search
KBR Longshot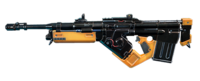 | | |
| --- | --- |
| Weapon Type | DMR |
| Rarity | Epic |
| Faction | Korolev |
| Unlock Level | 14 |
| Weight | 50 |
| Buy Price | 99,000 |
| Faction Reputation | 298 |
| Damage | 35 |
| Weakspot Multiplier | 1.5 |
| Penetration | 26 |
| Firerate | 0.6 |
| Projectile Speed | 40000 |
| Movement Multiplier | 0.9 |
| Reload time | 3.55s |
| Magazine Size | 12 |
Summary
The KBR Longshot is an Epic DMR from Korolev. It is capable of handling most threats at medium to long ranges.
Attachments
The KBR Longshot can have 8 different Attachments installed on it, one for each slot. The type of attachment must be compatible with the weapons type, so only attachments that have Assault Rifle as a category can be installed onto a KBR Longshot.
In-Game Description
A marksman rifle with good accuracy and power excels in medium range engagements.
Lore
The predecessor to the KOR-47, the Longshot was developed for the Federation to serve as a long range support weapon for ground troops. Designed with a low unit cost in mind, Korolev opted to ensure high accuracy and power over developing a fully automatic weapon.
Detailed Stats
| Stat | Value |
| --- | --- |
| Ammo Type | Heavy Ammo |
| Direct Damage | 35 Damage |
| Weakspot Multiplier | 1.5× |
| Penetration | 25 Penetration |
| Refire Rate | 0.6s |
| Rounds per minute (RPM) | 100 Shots |
| Projectile Speed | 400 m/s |
| Magazine Size | 12 Bullets |
| Reload Time | 3.55s |
| Equip Time | 1s |
| Unequip Time | 0.5s |
Update History
Damage reduced from 39 to 35
Damage increased from 35 to 39