PKR Maelstrom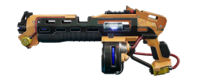 | | |
| --- | --- |
| Weapon Type | Shotgun |
| Rarity | Rare |
| Faction | Korolev |
| Unlock Level | 6 |
| Weight | 25 |
| Buy Price | 17,000 |
| Scrip Price | 4 |
| Sell Value | 5058 |
| Faction Reputation | 51 |
| Ammo Type | Shredder Shotgun Ammo |
| Damage | 7 |
| Weakspot Multiplier | 1.2 |
| Penetration | 20 |
| Firerate | 0.4 |
| Projectile Speed | 30000 |
| Movement Multiplier | 0.9 |
| Reload time | 2.2s |
| Magazine Size | 8 |
| Audible Range | 350m |
Summary
The PKR Maelstrom is a

Rare automatic shotgun manufactured by
Korolev. It is able to quickly dispatch of any close-quarters threat a prospector might encounter.
Attachments
The PKR Maelstrom can have 8 different Attachments installed on it, one for each slot. The type of attachment must be compatible with the weapon's type, so only attachments that have Shotgun or Shotgun Ammo as a category can be installed onto a PKR Maelstrom.
Description
A semi-automatic shotgun, it's heavy and a poor choice at range, but utterly devastating up close.
Lore
Korolev's first attempt at a building a phase weapon, the Phase-Kinetic Reactive ""Maelstrom's"" ammo pack carries more than enough energy to fulminate whatever gets in its way in a matter of seconds, provided it's close enough.
Weapon Comparison and Detailed Stats
For a comparison between this and other weapons, as well as an overview on its detailed stats, visit the Weapon Calculator
Uses
This item is used in the following missions, jobs, upgrades, printing recipes:
Missions
This item is not required to complete any missions.
Jobs
This item is required to complete the following jobs.
| | |
| --- | --- |
| 1× | And two smoking Barrels |
Cosmetics
This is an incomplete list of all cosmetics for the WEAPON in The Cycle: Frontier.

This list makes no guarantee of availability or completeness. Some cosmetics might no longer be in the shop rotation, be from the Fortuna Pass of a past season, be from a special promotion, or be otherwise exclusive.
Update history
Decreased movement speed when weapon is drawn by 10% (from 1 to 0.9 movespeed multiplier).
Reduced buying price from 22,000 to 17,000 K-Marks
Reduced recoil.
Increased spread to be more in line with that of other shotguns.
Hip fire spread 3.5 --> 5
ADS spread 3 --> 4.5
Weapon spread increase Speed 0.5 --> 0.65
Reduced camera shaking intensity.
Damage reduced from 8 to 7
Damage increased from 7 to 8