AR-55 Autorifle
Jump to navigation
Jump to search
AR-55 Autorifle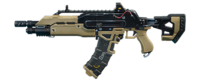 | | |
| --- | --- |
| Weapon Type | AR |
| Rarity | Common |
| Faction | Co-Tec |
| Unlock Level | 0 |
| Weight | 35 |
| Buy Price | 1,700 |
| Faction Reputation | 5 |
| Damage | 13 |
| Weakspot Multiplier | 1.7 |
| Penetration | 10 |
| Firerate | 0.11 |
| Projectile Speed | 28000 |
| Movement Multiplier | 0.9 |
| Reload time | 2.75s |
| Magazine Size | 22 |
Summary
The AR-55 Phase Autorifle is a versatile Assault Rifle. You do not have to unlock this weapon, as this weapon is sold through the Quick Shop.
Attachments
The AR-55 Phase Autorifle can have 8 different Attachments installed on it, one for each slot. The type of attachment must be compatible with the weapons type, so only attachments that have Assault Rifle as a category can be installed onto an AR-55 Phase Autorifle.
In-Game Description
A decent fully automatic rifle, doesn't excel in any one department, but comfortably versatile and lethally effective.
Lore
The AR-55 Phase Autorifle was commissioned by the IFA in an attempt to improve standard Authority armament without further increasing their reliance on Korolev Heavy Industries. While the IFA would eventually settle with the SAR-62, CoTEC's AR-55 remains a popular weapon in private armies and corporate security forces, and has succeeded at being an effective market counter to the popular KOR-47.
Comparison
| Item Name | Type | Faction | Buy Price | Sell Price | Rarity | Weight | Crit Multi | Damage | Pen | Mag Size | RPM | Reload Time | Proj. Dmg | # of Proj. |
| --- | --- | --- | --- | --- | --- | --- | --- | --- | --- | --- | --- | --- | --- | --- |
| Advocate | AR | ICA | 76,000 | 22,781 | Epic | 35 | 1.7 | 9 | 25 | 24 | 667 | 3.2 | 10 | 1 |
| Manticore | AR | Osiris | 9,000 | 2,709 | Uncommon | 35 | 1.7 | 13 | 15 | 24 | 500 | 3.35 | 13 | 1 |
| Phasic Lancer | AR | Osiris | 31,000 | 9,336 | Rare | 35 | 1.7 | 13 | 20 | 21 | 231 | 2.45 | 13 | 1 |
| Gorgon | AR | Osiris | 76,000 | 22,781 | Epic | 35 | 1.3 | 4 | 25 | 24 | 353 | 2.0 | 4 | 1 |
| KOR-47 | AR | Korolev | 210,000 | 63,080 | Exotic | 35 | 1.7 | 13 | 30 | 26 | 500 | 3.2 | 15 | 1 |
| AR-55 Autorifle | AR | Station | 1,700 | 524 | Common | 35 | 1.7 | 13 | 10 | 22 | 462 | 2.75 | 13 | 1 |
Detailed Stats
| Stat | Value |
| --- | --- |
| Ammo Type | Medium Ammo |
| Direct Damage | 13 Damage |
| Weakspot Multiplier | 1.7× |
| Penetration | 10 Penetration |
| Refire Rate | 0.11s |
| Rounds per minute (RPM) | 545.45 Shots |
| Projectile Speed | 280 m/s |
| Magazine Size | 22 Bullets |
| Reload Time | 2.75s |
| Equip Time | 1s |
| Unequip Time | 0.5s |
Audio
The AR-55 has six different variations of the sound it makes when shot:
There are an additional six variations the sound which is used when a Silencer is attached to the gun:
When the weapon is reloaded, one of four following sounds is played when the magazine is removed from the gun:
When the weapon is reloaded, one of four following sounds is played when a new magazine is inserted into the gun:
When the weapons is cocked, one of four sounds plays:
Update History
Damage reduced from 13 to 12
Weight reduced from 50 to 35
Refire time reduced from 0.13 to 0.11
Damage increased from 12 to 13