Kinetic Arbiter
Jump to navigation
Jump to search
Kinetic Arbiter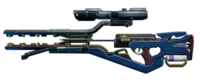 | | |
| --- | --- |
| Weapon Type | Sniper |
| Rarity | Exotic |
| Faction | ICA |
| Unlock Level | 20 |
| Weight | 50 |
| Buy Price | 412,000 |
| Faction Reputation | 1235 |
| Damage | 63 |
| Weakspot Multiplier | 1.45 |
| Penetration | 28 |
| Firerate | 1.7 |
| Projectile Speed | 70000 |
| Movement Multiplier | 0.8 |
| Reload time | 5.3s |
| Magazine Size | 4 |
Summary
The Kinetic Arbiter is an Exotic Sniper Rifle created by the ICA. It is capable of handling most threats at long ranges.
Attachments
The Kinetic Arbiter can have 7 different Attachments installed on it, one for each slot. The type of attachment must be compatible with the weapons type, so only attachments that have Sniper Rifle as a category can be installed onto a Kinetic Arbiter.
In-Game Description
A gauss sniper rifle firing metal rods at immense velocity. This weapon is favored among Prospectors that want to resolve their differences quickly and from a safe distance.
Lore
One of the ICA's most advanced conventional weapons, the Kinetic Arbiter is little more than a military-grade gauss gun stripped down to its most basic components needed to function, without any of the the fancy fittings or safety mechanisms.
Detailed Stats
| Stat | Value |
| --- | --- |
| Ammo Type | Heavy Ammo |
| Direct Damage | 62 Damage |
| Weakspot Multiplier | 1.4× |
| Penetration | 30 Penetration |
| Refire Rate | 1.7s |
| Rounds per minute (RPM) | 35.29 Shots |
| Projectile Speed | 700 m/s |
| Magazine Size | 4 Bullets |
| Reload Time | 5.3s |
| Equip Time | 1s |
| Unequip Time | 0.5s |
Update History