KOR-47
Jump to navigation
Jump to search
KOR-47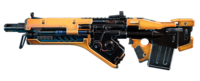 | | |
| --- | --- |
| Weapon Type | AR |
| Rarity | Exotic |
| Faction | Korolev |
| Unlock Level | 18 |
| Weight | 35 |
| Buy Price | 210,000 |
| Faction Reputation | 631 |
| Damage | 13 |
| Weakspot Multiplier | 1.7 |
| Penetration | 28 |
| Firerate | 0.12 |
| Projectile Speed | 30000 |
| Movement Multiplier | 0.9 |
| Reload time | 3.2s |
| Magazine Size | 26 |
Summary
The KOR-47 is an Exotic assault rifle manufactured by Korolev. It is a versatile weapon, capable of most encounters a prospector will face on Fortuna III.
Attachments
The KOR-47 can have 8 different Attachments installed on it, one for each slot. The type of attachment must be compatible with the weapons type, so only attachments that have Assault Rifle as a category can be installed onto a KOR-47.
In-Game Description
Heavy assault rifle. Lower firing rate than most competing weapons in its class but packs a punch.
Lore
The KOR Bullpup Automatic Rifle 2247, more commonly known as the KOR-47, is Korolev Heavy Industries' signature weapon and a mainstay of many national and private armed forces.
Comparison
| Item Name | Type | Faction | Buy Price | Sell Price | Rarity | Weight | Crit Multi | Damage | Pen | Mag Size | RPM | Reload Time | Proj. Dmg | # of Proj. |
| --- | --- | --- | --- | --- | --- | --- | --- | --- | --- | --- | --- | --- | --- | --- |
| Advocate | AR | ICA | 76,000 | 22,781 | Epic | 35 | 1.7 | 9 | 25 | 24 | 667 | 3.2 | 10 | 1 |
| Manticore | AR | Osiris | 9,000 | 2,709 | Uncommon | 35 | 1.7 | 13 | 15 | 24 | 500 | 3.35 | 13 | 1 |
| Phasic Lancer | AR | Osiris | 31,000 | 9,336 | Rare | 35 | 1.7 | 13 | 20 | 21 | 231 | 2.45 | 13 | 1 |
| Gorgon | AR | Osiris | 76,000 | 22,781 | Epic | 35 | 1.3 | 4 | 25 | 24 | 353 | 2.0 | 4 | 1 |
| KOR-47 | AR | Korolev | 210,000 | 63,080 | Exotic | 35 | 1.7 | 13 | 30 | 26 | 500 | 3.2 | 15 | 1 |
| AR-55 Autorifle | AR | Station | 1,700 | 524 | Common | 35 | 1.7 | 13 | 10 | 22 | 462 | 2.75 | 13 | 1 |
Detailed Stats
| Stat | Value |
| --- | --- |
| Ammo Type | Medium Ammo |
| Direct Damage | 13 Damage |
| Weakspot Multiplier | 1.7× |
| Penetration | 30 Penetration |
| Refire Rate | 0.12s |
| Rounds per minute (RPM) | 500 Shots |
| Projectile Speed | 300 m/s |
| Magazine Size | 26 Bullets |
| Reload Time | 3.2s |
| Equip Time | 1s |
| Unequip Time | 0.5s |
Update History
Damage reduced from 15 to 13
Weight reduced from 50 to 35
Damage increased from 12 to 15