C-32 Bolt Action
Jump to navigation
Jump to search
C-32 Bolt Action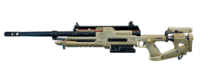 | | |
| --- | --- |
| Weapon Type | Sniper |
| Rarity | Common |
| Faction | Co-Tec |
| Unlock Level | 0 |
| Weight | 50 |
| Buy Price | 6,800 |
| Faction Reputation | 21 |
| Damage | 57 |
| Weakspot Multiplier | 1.6 |
| Penetration | 10 |
| Firerate | 1.8 |
| Projectile Speed | 50000 |
| Movement Multiplier | 0.8 |
| Reload time | 4.58s |
| Magazine Size | 4 |
Summary
The C-32 Bolt Action is a sniper rifle that excels at killing prospectors at a long distance, as long as they are not wearing an Uncommon or better Helmet. You do not have to unlock this weapon, as this weapon is sold through the Quick Shop.
Attachments
The C-32 Bolt Action can have 7 different Attachments installed on it, one for each slot. The type of attachment must be compatible with the weapons type, so only attachments that have Sniper as a category can be installed onto a C-32 Bolt Action.
In-Game Description
Bolt action sniper rifle that was commonly used by the local population.
Lore
Anachronistic by design, this CoTEC bolt action rifle was meant for civilian use in frontier planets to manage hostile wildlife. Effective in its purpose, the massive increase in wildlife hostility and numbers lead to mass production of lower grade rifles like this one.
Detailed Stats
| Stat | Value |
| --- | --- |
| Ammo Type | Heavy Ammo |
| Direct Damage | 57 Damage |
| Weakspot Multiplier | 1.6× |
| Penetration | 10 Penetration |
| Refire Rate | 1.8s |
| Rounds per minute (RPM) | 33.33 Shots |
| Projectile Speed | 500 m/s |
| Magazine Size | 4 Bullets |
| Reload Time | 4.58s |
| Equip Time | 1s |
| Unequip Time | 0.5s |
Update History
Magazine size reduced from 8 to 4