K-28
Jump to navigation
Jump to search
K-28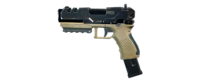 | | |
| --- | --- |
| Weapon Type | Pistol |
| Rarity | Common |
| Faction | Co-Tec |
| Unlock Level | 0 |
| Weight | 20 |
| Buy Price | 760 |
| Faction Reputation | 2 |
| Damage | 12 |
| Weakspot Multiplier | 1.5 |
| Penetration | 10 |
| Firerate | 0.125 |
| Projectile Speed | 28000 |
| Movement Multiplier | 1 |
| Reload time | 2.55s |
| Magazine Size | 12 |
Summary
The K-28 is a straight-forward pistol available at the Quick Shop.
Attachments
The K-28 can have 5 different Attachments installed on it, one for each slot. The type of attachment must be compatible with the weapons type, so only attachments that have Pistol as a category can be installed onto a K-28.
In-Game Description
A standard semi-automatic pistol. It's an effective sidearm for any Prospector.
Lore
With a design that's seen no change in over two centuries, the CoTEC K-28 is one of the most popular weapons throughout known space, as are its many knock offs.
Detailed Stats
| Stat | Value |
| --- | --- |
| Ammo Type | Light Ammo |
| Direct Damage | 12 Damage |
| Weakspot Multiplier | 1.5× |
| Penetration | 10 Penetration |
| Refire Rate | 0.125s |
| Rounds per minute (RPM) | 480 Shots |
| Projectile Speed | 280 m/s |
| Magazine Size | 12 Bullets |
| Reload Time | 2.55s |
| Equip Time | 0.6s |
| Unequip Time | 0.4s |