Hammer
Jump to navigation
Jump to search
Hammer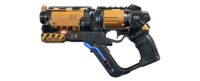 | | |
| --- | --- |
| Weapon Type | Pistol |
| Rarity | Exotic |
| Faction | Korolev |
| Unlock Level | 16 |
| Weight | 20 |
| Buy Price | 92,000 |
| Faction Reputation | 220 |
| Damage | 28 |
| Weakspot Multiplier | 2 |
| Penetration | 28 |
| Firerate | 0.4 |
| Projectile Speed | 30000 |
| Movement Multiplier | 1 |
| Reload time | 2.175s |
| Magazine Size | 6 |
Summary
The Hammer is a pistol from Korolev. Its slow firerate and high weakspot multiplier lends it to a precision playstyle, in which each shot is devastating.
Attachments
The Hammer can have 5 different Attachments installed on it, one for each slot. The type of attachment must be compatible with the weapons type, so only attachments that have Pistol as a category can be installed onto a Hammer.
In-Game Description
Pistol, inflicts devastating damage on its targets, at the cost of any kind of subtlety.
Lore
Based on their ubiquitous rivet guns, also known as 'energy hammers', the 'Hammer' was an attempt at developing a low cost personal defense weapon. Popular among those wanting a dependable high-powered pistol, its weight and complex operation make it unattractive to the mass market.
Detailed Stats
| Stat | Value |
| --- | --- |
| Ammo Type | Light Ammo |
| Direct Damage | 28 Damage |
| Weakspot Multiplier | 2× |
| Penetration | 30 Penetration |
| Refire Rate | 0.4s |
| Rounds per minute (RPM) | 150 Shots |
| Projectile Speed | 300 m/s |
| Magazine Size | 6 Bullets |
| Reload Time | 2.175s |
| Equip Time | 0.6s |
| Unequip Time | 0.4s |
Update History
Base damage reduced from 31 to 28
Base damage increased from 26 to 31