Biological Sampler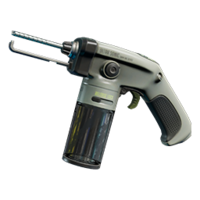 | | |
| --- | --- |
| Type | Medical |
| Rarity | Rare |
| Spawn Locations | [BS] [CF] [TI] |
| Weight | 8 |
| K-Marks | 1139 |
| K-Marks / Weight | 142 |
| Faction Reputation | 11 |
| Faction Rep / Weight | 1 |
A Biological Sampler is a

Rare item found as loot on Fortuna III. It can typically be found inside
Osiris structures.
Description
A portable device used for collecting biological samples in the field. Can be used to assist with printing delicate items.
This model incorporates a pressure-activated injector as well. Mildly concerning.
Spawn location
Biological Sampler can be found in many locations of Fortuna III. Find all of its spawns on our Interactive Map: [BS] [CF] [TI].
Specifically, it can be found in the following Loot Containers, depending on the tier. This list does not include non-container or special spawns.
Spawn chance per container

| Container | Max spawn chance |
| --- | --- |
| Hidden Stash Tier 1 | 0.53% |
| Hidden Stash Tier 2 | 0.59% |
| Hidden Stash Tier 3 | 0.66% |
| Hidden Stash Tier 4 | 0.72% |
| Hidden Stash Tier 5 | 0.78% |
| Med Case Tier 1 | 6% |
| Med Case Tier 2 | 12% |
| Med Case Tier 3 | 21% |
| Med Case Tier 4 | 28% |
| Med Case Tier 5 | 35% |
Uses