Biological Sampler
Jump to navigation
Jump to search
Biological Sampler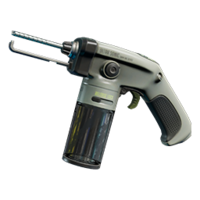 | | |
| --- | --- |
| Type | Medical |
| Rarity | Rare |
| Weight | 8 |
| Sell value | 1139 |
| Value per weight | 142 |
| Faction Points | 11 |
| Faction reputation per weight | 1.4 |
A Biological Sampler is a Rare item found as loot on Fortuna III. It can typically be found inside Osiris structures.
In-Game description
A portable device used for collecting biological samples in the field. Can be used to assist with printing delicate items.
This model incorporates a pressure-activated injector as well. Mildly concerning.
Location
Can be found in Medical Cases.
Uses
This item is used in the following missions, jobs, upgrades, printing recipes:
Missions
This item is required a total of 7 times to complete the following missions.
| | |
| --- | --- |
| 1× | A Powerful Discovery Part 4 |
| 5× | Never Give Up Part 3 |
| 1× | Field Research Part 4 |
Jobs
This item is required to complete the following jobs.
Personal Quarter
Biological Sampler is used in the following Personal Quarters upgrades
Generator Upgrades
| Generator | Level | Upgrade | Quantity |
| --- | --- | --- | --- |
| K-Marks Rate | 5 | 1/5 | 6x |
Inventory Upgrades
None
Workbench Upgrades
| Workbench | Level | Upgrade | Quantity |
| --- | --- | --- | --- |
| Quarters Upgrade Time | 4 | 3/3 | 5x |
Quarters Upgrades
None