Miniature Reactor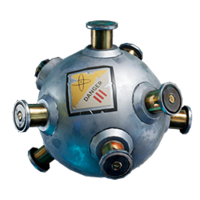 | | |
| --- | --- |
| Type | Valuable |
| Rarity | Rare |
| Spawn Locations | [BS] [CF] [TI] |
| Weight | 10 |
| K-Marks | 2025 |
| K-Marks / Weight | 202 |
| Faction Reputation | 20 |
| Faction Rep / Weight | 2 |
A Miniature Reactor is a

Rare item found as loot on Fortuna III. This item can only be obtained by solving a Power Station Puzzle and entering its storage room after completion. It will be in one of the crates inside,
Description
Useful for printing equipment with high power requirements.
DO NOT DISASSEMBLE. DO NOT ATTEMPT TO REPAIR. IF DAMAGED, DISPOSE OF AS INSTRUCTED IN FIG-24B.
Location
Can be found in the storage rooms of power facilities.
Uses