Spine Briar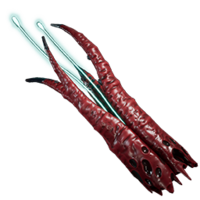 | | |
| --- | --- |
| Type | Flora |
| Rarity | Rare |
| Spawn Locations | [BS] [CF] [TI] |
| Weight | 7 |
| K-Marks | 2563 |
| K-Marks / Weight | 366 |
| Faction Reputation | 26 |
| Faction Rep / Weight | 3 |
Spine Briar is an

Rare item found on Tharis Island.
Description
A unique plant so far only found on Tharis Island. Nothing about it feels right...
Spawn location
Spine Briar can be found in many locations of Fortuna III. Find all of its spawns on our Interactive Map: [BS] [CF] [TI].
Specifically, it can be found in the following Loot Containers, depending on the tier. This list does not include non-container or special spawns.
Spawn chance per container

| Container | Max spawn chance |
| --- | --- |
| Alien Vent Tier 5 | 1.13% |
Uses