Brittle Titan Ore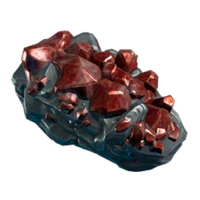 | | |
| --- | --- |
| Type | Resource |
| Rarity | Uncommon |
| Spawn Locations | [BS] [CF] [TI] |
| Weight | 3 |
| K-Marks | 570 |
| K-Marks / Weight | 190 |
| Faction Reputation | 6 |
| Faction Rep / Weight | 2 |
Brittle Titan Ore is an

Uncommon ore found on Fortuna III. It is abundant in the Dig Site and Abandoned Mine.
Description
Somewhat common on H-C5 planets, Titan Ore was essential during the initial colonization. Still used in a variety of printing and upgrading processes.
Location
Spawn location
Brittle Titan Ore can be found in many locations of Fortuna III. Find all of its spawns on our Interactive Map: [BS] [CF] [TI].
Specifically, it can be found in the following Loot Containers, depending on the tier. This list does not include non-container or special spawns.
Uses