Jewellery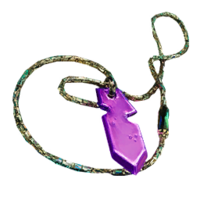 | | |
| --- | --- |
| Type | Valuable |
| Rarity | Rare |
| Spawn Locations | [BS] [CF] [TI] |
| Weight | 2 |
| K-Marks | 1013 |
| K-Marks / Weight | 506 |
| Faction Reputation | 10 |
| Faction Rep / Weight | 5 |
Jewellery is a

Rare item found as loot on Fortuna III. Typical inside safes, briefcases and luggage.
Description
A simple and easy way to carry ones riches and memories. Also very easy to lose during an emergency evacuation.
Spawn location
Jewellery can be found in many locations of Fortuna III. Find all of its spawns on our Interactive Map: [BS] [CF] [TI].
Specifically, it can be found in the following Loot Containers, depending on the tier. This list does not include non-container or special spawns.
Spawn chance per container

| Container | Max spawn chance |
| --- | --- |
| Suit Case Tier 1 | 4.12% |
| Suit Case Tier 2 | 8.2% |
| Suit Case Tier 3 | 12.47% |
| Suit Case Tier 4 | 16.63% |
| Suit Case Tier 5 | 21.2% |
| Safe Tier 2 | 39.6% |
| Safe Tier 3 | 73.53% |
| Safe Tier 4 | 98.04% |
| Safe Tier 5 | 125% |
| Jacket Tier 1 | 10.75% |
| Jacket Tier 2 | 21.39% |
| Jacket Tier 3 | 34.71% |
| Jacket Tier 4 | 46.27% |
| Jacket Tier 5 | 59% |
| Luggage Tier 1 | 2% |
| Luggage Tier 2 | 5.96% |
| Luggage Tier 3 | 8.85% |
| Luggage Tier 4 | 11.8% |
| Luggage Tier 5 | 15.05% |
Uses