Tharis Iron Ingot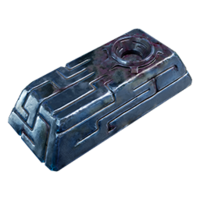 | | |
| --- | --- |
| Type | Alien |
| Rarity | Epic |
| Spawn Locations | BS CF TI |
| Weight | 9 |
| K-Marks | 3845 |
| K-Marks / Weight | 427 |
| Faction Reputation | 38 |
| Faction Rep / Weight | 4.2 |
Tharis Iron Ingot is an

Epic item found on Tharis Island as a result of using The Forge.
Description
A well shaped ingot made with Tharis Iron. Harder and heavier than anything else you have ever felt. Slightly warm to the touch.
Location
No human machinery could ever forge something like this. It is created by using Tharis Iron in The Forge.
Uses