Sample Container
Jump to navigation
Jump to search
Sample Container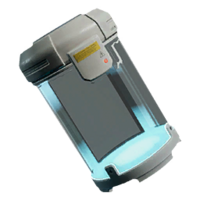 | | |
| --- | --- |
| Type | Housing, Farming |
| Rarity | Rare |
| Weight | 10 |
| Sell value | 506 |
| Value per weight | 51 |
| Faction Points | 5 |
| Faction reputation per weight | 0.5 |
A Sample Container is a Rare item found as loot on Fortuna III. This item can typically be found inside Osiris structures.
In-Game description
A sealed self-powered container for exotic alien samples.
Scientists are always putting little things in jars and hoping for the best.
Location
Can be found in Coolers and Civilian Lockers.
Uses
This item is used in the following missions, jobs, upgrades, printing recipes:
Missions
This item is required a total of 15 times to complete the following missions.
| | |
| --- | --- |
| 2× | A Powerful Discovery Part 5 |
| 5× | Never Give Up Part 2 |
| 8× | Everything is Crystals Part 2 |
Jobs
This item is not required to complete any jobs
Personal Quarter
Sample Container is used in the following Personal Quarters upgrades
Generator Upgrades
| Generator | Level | Upgrade | Quantity |
| --- | --- | --- | --- |
| K-Marks Cap | 2 | 2/5 | 2x |
| Aurum Cap | 7 | 2/5 | 10x |
Inventory Upgrades
| Inventory | Level | Upgrade | Quantity |
| --- | --- | --- | --- |
| Stash Size | 2 | 1/3 | 2x |
| Safe Pocket Capacity | 5 | 1/1 | 8x |
Workbench Upgrades
| Workbench | Level | Upgrade | Quantity |
| --- | --- | --- | --- |
| Quarters Upgrade Time | 4 | 2/3 | 4x |
Quarters Upgrades
None