Charged Tharis Iron Ingot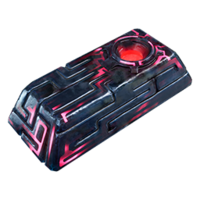 | | |
| --- | --- |
| Type | Alien |
| Rarity | Exotic |
| Spawn Locations | [BS] [CF] [TI] |
| Weight | 9 |
| K-Marks | 8650 |
| K-Marks / Weight | 961 |
| Faction Reputation | 87 |
| Faction Rep / Weight | 9 |
Charged Tharis Iron Ingot is an

Exotic item found on Tharis Island as a result of using The Forge.
Description
An ingot made of Pure Tharis Iron somehow charged with storm lightning. Sometimes lets off a shock when touched, and you can hear a buzz if you put it next to your ear.
OSIRIS ADVISORY: Do not any under circumstances interact with this material without Class T protective gear!
Location
Spawn location
Charged Tharis Iron Ingot can be found in many locations of Fortuna III. Find all of its spawns on our Interactive Map: [BS] [CF] [TI].
Specifically, it can be found in the following Loot Containers, depending on the tier. This list does not include non-container or special spawns.
Uses