Brightcap Mushroom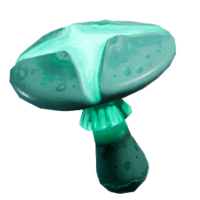 | | |
| --- | --- |
| Type | Flora |
| Rarity | Uncommon |
| Spawn Locations | BS CF TI |
| Weight | 2 |
| K-Marks | 169 |
| K-Marks / Weight | 85 |
| Faction Reputation | 2 |
| Faction Rep / Weight | 1 |
Brightcap Mushroom is an

Uncommon item found as loot on Fortuna III.
Brightcap Mushrooms are mutated variants of mushrooms brought from Earth by Fortuna III's original colonists.
Description
Good for selling and desired by Osiris for their rare properties. Also tastes good, if prepared properly.
Location
Can be found at the Rock Pools, Swamp and Jungle Region on Bright Sands.
Uses