Swamp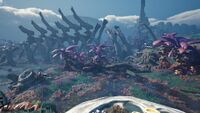 Swamp is a place of interest in the southwestern part of Bright Sands.
Description
Swamp is a large area on Bright Sands. It features the Swamp Camp and Rock Pools places of interests inside of it. The most prominent feature of the swamp is the skeleton of a massive creature which encapsulates Swamp Camp inside it. The very southwest corner of the swamp features a small house with an Evac platform next to it.
Swamp has a big waterfall with 5-10 Veltecite ore nodes which sits between Rock Pools and Swamp Camp. Besides that the swamp itself is rather lacking in Loot , but the places of interest inside of it feature a lot more.
Image Gallery