Water Facility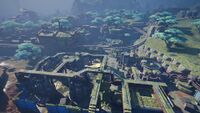 Water Facility is a place of interest in the southern part of Bright Sands.
Description
Water Facility is a large compound on Bright Sands. It is made up of large buildings, pipes, water containers and construction objects. Overlooking the compound is a high water tower on the south side of the compound. This is one of the highest locations on Bright Sands, and gives a great vantage point of the nearby area.
Missions
Lore
Battery Puzzle
This section is a stub. You can help The Cycle: Frontier Wiki by expanding it. Reason: This section should explain the two configurations and how to solve each, and what the rewards are..
The Battery Puzzle at Water Facility has two possible configurations.
Image Gallery