Base Camp
Jump to navigation
Jump to search
Base Camp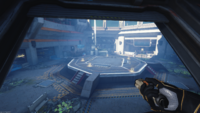 Base Camp is a place of interest in the centre of Bright Sands.
Description
Base Camp is a large structure that was used as a landing pad and travel hub on Bright Sands. It is built into the mountain in the centre of Bright Sands. The mountain can be seen from afar as a Progenitor ruin towers above it.
Base Camp be accessed from doors, tunnels, and gateways from nearly every side of the mountain. The centre of the mountain is open at the top, which allows Evac ships to land on the landing pad. The rest of the complex surrounds the landing pad. It features benches, cargo crates, luggage that was left behind. Several rooms oversee the landing pad as well, which can be reached by going up a set of stairs or from one of the many entrances from the outside.
Loot
Base Camp has many Valuable, Electronic and Generic type of loot spawns, such as Radio Equipment or Jewellery.
Luggage Saferoom
The Main Office room features a Keycard door, which can be opened using the Rare Luggage Saferoom Key. It has a Military Box, several Safes, Briefcases, and more. It features great loot, as the loot inside is of Very High Danger.
The north side of Base Camp has an Evac location.
Dead Drops
Base Camp features three Dead Drops, which is the most numerous of any location in The Cycle: Frontier. Main Office, Gate A, and Gate C can be found here.
Image Gallery