Base Camp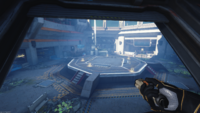 Base Camp is a place of interest in the centre of Bright Sands.
Description
Base Camp is a large structure that was used as a landing pad and travel hub on Bright Sands. It is built into the mountain in the centre of Bright Sands. The mountain can be seen from afar as a Progenitor ruin towers above it.
Base Camp can be accessed from doors, tunnels, and gateways from nearly every side of the mountain. The centre of the mountain is open at the top, which was used by Evac ships to land on the landing pad. The rest of the complex surrounds the landing pad. It features benches, cargo crates, luggage that was left behind. Several rooms oversee the landing pad as well, which can be reached by going up a set of stairs or from one of the many entrances from the outside.
Loot
Base Camp Armory
Dead Drops
Image Gallery