South East Uplink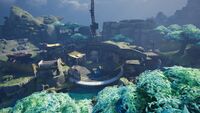 South East Uplink is a place of interest in the south-eastern part of Bright Sands.
Description
South East Uplink is a circular two-story building close to Base Camp and Science Campus. It features an Uplink, a way to upgrade Data Drives to higher rarities. The building is surrounded by cargo crates, heavy machinery
The cliff northeast of the building has a staircase leading up to it. At the top of a cliff is an Evac location.
Image Gallery