Comms Tower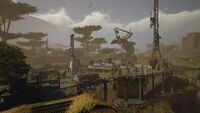 Comms Tower is a place of interest on the western coast of the Bright Sands.
Description
What was once a the
ICA Communications Base, is now a derelict hub festering with the dangerous inhabitants of Bright Sands' jungle. Ridden with overgrowth, the base notably holds two main buildings containing semi-functioning computer and communications equipment, a potentially-operational satellite dish, and a massive tower of seemingly unknown purpose.
Features
The area contains two main buildings adjacent of one another, separated by shipping containers. Located upstairs in the southern-most building is a locked area known as Server Room, requiring the Server Access Key for unlocking. The area also holds a satellite dish, as well as a large tower; both with Dead Drop locations.
Missions
Loot
Image Gallery