SOS Sign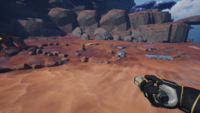 The SOS Sign is a place of interest in the South of Bright Sands.
Description
The SOS Sign a location on Bright Sands on the south beach, consisting of a SOS Sign made out of rocks in the sand by people left during the evacuation.
Features
The area is mainly visited when dropping into Bright Sands or for the mission Doing the Work Part 1, which requires prospectors to find the SOS Sign.
Situated just below the south mountain of Water Facility and consisting of very little cover, prospectors should move quickly as they leave themselves open to ambushes in the area.
Loot
Image Gallery