Woodcutter Camp
Jump to navigation
Jump to search
Woodcutter Camp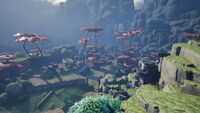 Woodcutter Camp is a place of interest in the northeastern part of Bright Sands, sitting between Waterfall Labs and East Caverns
Description
Woodcutter Camp is a collection of houses and equipment. The camp was used to chop down the Azure Trees around the camp. ICA uses the Azure Tree Bark to fashion weapons and other equipment. Overlooking the camp is the Tall House, which gives a great vantage point over the entire camp. The camp is surrounded by rocks and fences, but the many roads leading into the center make it easy to sneak into the camp.
Features
The camp features the Tall House, a locked room requiring the Tall House Key to open. The room has a Military Crate and other supplies. The loot inside is typically of low tier, as Woodcutter Camp is a low tier location.
Loot
Woodcutter Camp has a lot of Azure Tree Bark laying around. It also has a few Coolers, making it a good location to find farming category loot.
Image Gallery