Meteor Fragment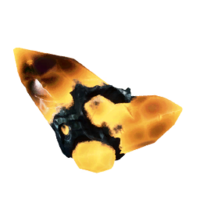 | | |
| --- | --- |
| Type | Mineral |
| Rarity | Rare |
| Spawn Locations | BS CF TI |
| Weight | 5 |
| K-Marks | 1013 |
| K-Marks / Weight | 203 |
| Faction Reputation | 1013 |
| Faction Rep / Weight | 202.6 |
A Meteor Fragment is a rare item found as loot on Fortuna III. It can be found by mining a Meteor which fall from the sky ever so often.
Description
Rare radioactive crystal, retrieved from debris of Fortuna III's cracked moon. Highly valuable.
Location
Can be mined from meteors that fall to the surface.
Uses