Meteor Fragment
Jump to navigation
Jump to search
Meteor Fragment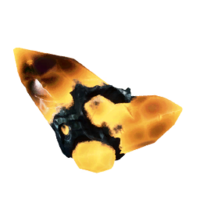 | | |
| --- | --- |
| Type | Mineral |
| Rarity | Rare |
| Weight | 5 |
| Sell value | 1013 |
| Value per weight | 203 |
| Faction Points | 1013 |
| Faction reputation per weight | 202.6 |
A Meteor Fragment is a rare item found as loot on Fortuna III. It can be found by mining a Meteor which fall from the sky ever so often.
In-Game description
Rare radioactive crystal, retrieved from debris of Fortuna III's cracked moon. Highly valuable.
Location
Can be mined from meteors that fall to the surface.
Uses
This item is used in the following missions, jobs, upgrades, printing recipes:
Missions
This item is required a total of 8 times to complete the following missions.
| | |
| --- | --- |
| 5× | Good Honest Work Part 7 |
| 3× | Project Fireball Part 1 |
Jobs
This item is required to complete the following jobs.
| | |
| --- | --- |
| 4× | Energy Crisis |
| 4× | Unstable Sample |
| 6× | Promising Results |
| 2× | Meteor Shards |
| 8× | Shards of pure Power |
Personal Quarter
Meteor Fragment is used in the following Personal Quarters upgrades
Generator Upgrades
| Generator | Level | Upgrade | Quantity |
| --- | --- | --- | --- |
| K-Marks Cap | 2 | 4/5 | 5x |
| Aurum Cap | 4 | 4/5 | 6x |
Inventory Upgrades
| Inventory | Level | Upgrade | Quantity |
| --- | --- | --- | --- |
| Stash Size | 6 | 1/3 | 9x |
Workbench Upgrades
None
Quarters Upgrades
None