Aluminum Scrap
Jump to navigation
Jump to search
Aluminum Scrap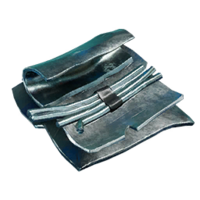 | | |
| --- | --- |
| Type | Generic |
| Rarity | Common |
| Weight | 10 |
| K-Marks | 506 |
| K-Marks / Weight | 51 |
| Faction Reputation | 5 |
| Faction Rep / Weight | 0.5 |
Aluminum Scrap is a RARITY item found as loot on Fortuna III. This item can rarely be found on Bright Sands, but is abundant on Crescent Falls.
In-Game description
Mostly aluminum and steel; not the most valuable salvage, but useful for printing.
Location
Can be found in any Structures and Containers.
Uses
Used to craft:
Personal Quarter
Aluminum Scrap is used in the following Personal Quarters upgrades
Generator Upgrades
| Generator | Level | Upgrade | Quantity |
| --- | --- | --- | --- |
| Supply Crate | 3 | 1/2 | 4x |
Inventory Upgrades
| Inventory | Level | Upgrade | Quantity |
| --- | --- | --- | --- |
| Safe Pocket Capacity | 3 | 1/1 | 4x |
Workbench Upgrades
| Workbench | Level | Upgrade | Quantity |
| --- | --- | --- | --- |
| Quarters Upgrade Time | 4 | 1/3 | 2x |
Quarters Upgrades
| Quarters | Level | Upgrade | Quantity |
| --- | --- | --- | --- |
| Quarters | 6 | 1/1 | 18x |