Aluminum Scrap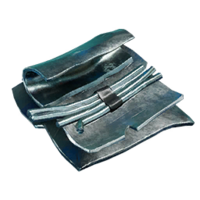 | | |
| --- | --- |
| Type | Generic |
| Rarity | Common |
| Spawn Locations | [BS] [CF] [TI] |
| Weight | 10 |
| K-Marks | 507 |
| K-Marks / Weight | 50 |
| Faction Reputation | 5 |
| Faction Rep / Weight | 0 |
Aluminum Scrap is a

Common item found as loot on Fortuna III. This item can rarely be found on Bright Sands, but is abundant on Crescent Falls.
Description
Mostly aluminum and steel; not the most valuable salvage, but useful for printing.
Spawn location
Aluminum Scrap can be found in many locations of Fortuna III. Find all of its spawns on our Interactive Map: [BS] [CF] [TI].
Specifically, it can be found in the following Loot Containers, depending on the tier. This list does not include non-container or special spawns.
Spawn chance per container

| Container | Max spawn chance |
| --- | --- |
| Industrial Container Tier 1 | 12.73% |
| Industrial Container Tier 2 | 13.91% |
| Industrial Container Tier 3 | 10.75% |
| Industrial Container Tier 4 | 25% |
| Industrial Container Tier 5 | 36.36% |
| Dumpster Tier 1 | 9.09% |
| Dumpster Tier 2 | 13.04% |
| Dumpster Tier 3 | 17.91% |
| Dumpster Tier 4 | 30% |
| Dumpster Tier 5 | 43.64% |
| Hidden Stash Tier 1 | 0.97% |
| Hidden Stash Tier 2 | 1.02% |
| Hidden Stash Tier 3 | 1.08% |
| Hidden Stash Tier 4 | 1.16% |
| Hidden Stash Tier 5 | 1.31% |
| Civilian Locker Tier 1 | 10.91% |
| Civilian Locker Tier 2 | 15.65% |
| Civilian Locker Tier 3 | 21.49% |
| Civilian Locker Tier 4 | 30% |
| Civilian Locker Tier 5 | 65.45% |
Uses