Zero Systems CPU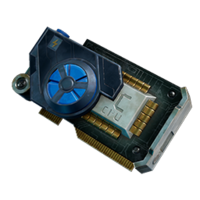 | | |
| --- | --- |
| Type | Electronic, Scientific |
| Rarity | Rare |
| Spawn Locations | [BS] [CF] [TI] |
| Weight | 5 |
| K-Marks | 507 |
| K-Marks / Weight | 101 |
| Faction Reputation | 5 |
| Faction Rep / Weight | 1 |
A Zero Systems CPU is a

Rare item found as loot on Fortuna III. It can be found almost anywhere in low quantities, but is commonly found behind Key Doors or at locations with an Uplink.
Description
Made for crunching through large datasets, used in several devices that require large amounts of simple calculations.
Spawn location
Zero Systems CPU can be found in many locations of Fortuna III. Find all of its spawns on our Interactive Map: [BS] [CF] [TI].
Specifically, it can be found in the following Loot Containers, depending on the tier. This list does not include non-container or special spawns.
Spawn chance per container

| Container | Max spawn chance |
| --- | --- |
| Suit Case Tier 1 | 5.85% |
| Suit Case Tier 2 | 8.51% |
| Suit Case Tier 3 | 10.59% |
| Suit Case Tier 4 | 14.3% |
| Suit Case Tier 5 | 16.69% |
| Osiris Filing Cabinet Tier 2 | 15.71% |
| Osiris Filing Cabinet Tier 3 | 19.56% |
| Osiris Filing Cabinet Tier 4 | 26.4% |
| Osiris Filing Cabinet Tier 5 | 30.8% |
| Luggage Tier 1 | 5.85% |
| Luggage Tier 2 | 9.23% |
| Luggage Tier 3 | 11.48% |
| Luggage Tier 4 | 15.5% |
| Luggage Tier 5 | 18.09% |
Uses