Zero Systems CPU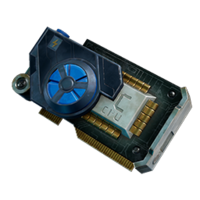 | | |
| --- | --- |
| Type | Electronic, Scientific |
| Rarity | Rare |
| Spawn Locations | BS CF TI |
| Weight | 5 |
| K-Marks | 506 |
| K-Marks / Weight | 101 |
| Faction Reputation | 5 |
| Faction Rep / Weight | 1 |
A Zero Systems CPU is a

Rare item found as loot on Fortuna III. It can be found almost anywhere in low quantities, but is commonly found behind Key Doors or at locations with an Uplink.
Description
Made for crunching through large datasets, used in several devices that require large amounts of simple calculations.
Location
Can be found in Cabinets, Briefcases and Luggage.
Uses