Resin Gun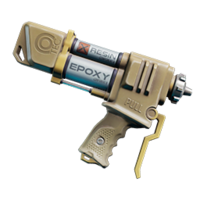 | | |
| --- | --- |
| Type | Housing, Farming |
| Rarity | Uncommon |
| Spawn Locations | [BS] [CF] [TI] |
| Weight | 5 |
| K-Marks | 760 |
| K-Marks / Weight | 152 |
| Faction Reputation | 8 |
| Faction Rep / Weight | 1 |
A Resin Gun is an

Uncommon item found as loot on Fortuna III. This item is very rare on Bright Sands, but Crescent Falls has it in relatively high quantities.
Description
Multi purpose tool, handy for sticking things together or providing flexible insulation.
The warning label says to not use if you need a warning label.
Spawn location
Resin Gun can be found in many locations of Fortuna III. Find all of its spawns on our Interactive Map: [BS] [CF] [TI].
Specifically, it can be found in the following Loot Containers, depending on the tier. This list does not include non-container or special spawns.
Spawn chance per container

| Container | Max spawn chance |
| --- | --- |
| Civilian Locker Tier 1 | 1.39% |
| Civilian Locker Tier 2 | 8.42% |
| Civilian Locker Tier 3 | 15.24% |
| Civilian Locker Tier 4 | 12.7% |
| Civilian Locker Tier 5 | 9.47% |
| Cooler Tier 1 | 2.01% |
| Cooler Tier 2 | 12.21% |
| Cooler Tier 3 | 22.1% |
| Cooler Tier 4 | 19.68% |
| Cooler Tier 5 | 13.05% |
Uses