Resin Gun
Jump to navigation
Jump to search
Resin Gun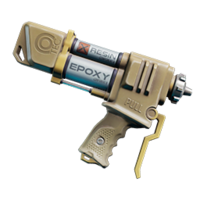 | | |
| --- | --- |
| Type | Housing, Farming |
| Rarity | Uncommon |
| Weight | 5 |
| Sell value | 759 |
| Value per weight | 152 |
| Faction Points | 8 |
| Faction reputation per weight | 1.6 |
A Resin Gun is an Uncommon item found as loot on Fortuna III. This item is very rare on Bright Sands, but Crescent Falls has it in relatively high quantities.
In-Game description
Multi purpose tool, handy for sticking things together or providing flexible insulation.
The warning label says to not use if you need a warning label.
Location
Can be found in Coolers and Civilian Lockers.
Uses
This item is used in the following missions, jobs, upgrades, printing recipes:
Missions
This item is required a total of 14 times to complete the following missions.
| | |
| --- | --- |
| 3× | What a Tool! Part 5 |
| 5× | Crafting Better Bags Part 1 |
| 4× | Back to Basics Part 1 |
| 2× | Field Research Part 8 |
Jobs
This item is required to complete the following jobs.
Personal Quarter
Resin Gun is used in the following Personal Quarters upgrades
Generator Upgrades
| Generator | Level | Upgrade | Quantity |
| --- | --- | --- | --- |
| K-Marks Cap | 2 | 5/5 | 9x |
| Aurum Rate | 4 | 3/5 | 8x |
Inventory Upgrades
| Inventory | Level | Upgrade | Quantity |
| --- | --- | --- | --- |
| Stash Size | 2 | 2/3 | 2x |
| Safe Pocket Capacity | 5 | 1/1 | 12x |
Workbench Upgrades
| Workbench | Level | Upgrade | Quantity |
| --- | --- | --- | --- |
| Quarters Upgrade Time | 1 | 3/3 | 2x |
Quarters Upgrades
| Quarters | Level | Upgrade | Quantity |
| --- | --- | --- | --- |
| Quarters | 5 | 1/1 | 10x |