Copper Wire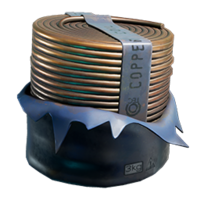 | | |
| --- | --- |
| Type | Construction |
| Rarity | Common |
| Spawn Locations | [BS] [CF] [TI] |
| Weight | 8 |
| K-Marks | 150 |
| K-Marks / Weight | 18 |
| Faction Reputation | 2 |
| Faction Rep / Weight | 0 |
Copper Wire is a

Common item found as loot on Fortuna III. Can typically be found inside
Korolev structures.
Description
Still the best bang for the buck for electric cables, makes for a good and cheap electric conductor.
Spawn location
Copper Wire can be found in many locations of Fortuna III. Find all of its spawns on our Interactive Map: [BS] [CF] [TI].
Specifically, it can be found in the following Loot Containers, depending on the tier. This list does not include non-container or special spawns.
Spawn chance per container

| Container | Max spawn chance |
| --- | --- |
| Dumpster Tier 1 | 32.84% |
| Dumpster Tier 2 | 27.23% |
| Dumpster Tier 3 | 23.53% |
| Dumpster Tier 4 | 12% |
| Dumpster Tier 5 | 6% |
| Hidden Stash Tier 1 | 6.34% |
| Hidden Stash Tier 2 | 6.22% |
| Hidden Stash Tier 3 | 6.09% |
| Hidden Stash Tier 4 | 5.85% |
| Hidden Stash Tier 5 | 5.72% |
Uses