Shock Absorber
Jump to navigation
Jump to search
Shock Absorber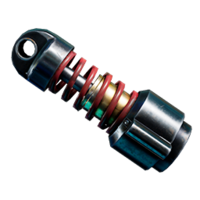 | | |
| --- | --- |
| Type | Construction |
| Rarity | Epic |
| Weight | 6 |
| Sell value | 759 |
| Value per weight | 127 |
| Faction Points | 8 |
| Faction reputation per weight | 1.3 |
A Shock Absorber is an Epic item found as loot on Fortuna III. It is abundant at Science Campus, but can be found in several other locations in low quantities.
In-Game description
A component used for certain weapons with heavy recoil.
Location
Can be found in Dumpsters.
Uses
This item is used in the following missions, jobs, upgrades, printing recipes:
Missions
This item is required a total of 5 times to complete the following missions.
Jobs
This item is required to complete the following jobs.
| | |
| --- | --- |
| 2× | Recoil Compensation |
| 3× | Shock and Awe |
Personal Quarter
Shock Absorber is used in the following Personal Quarters upgrades
Generator Upgrades
| Generator | Level | Upgrade | Quantity |
| --- | --- | --- | --- |
| Supply Crate | 5 | 2/2 | 1x |
Inventory Upgrades
| Inventory | Level | Upgrade | Quantity |
| --- | --- | --- | --- |
| Stash Size | 6 | 1/3 | 2x |
Workbench Upgrades
| Workbench | Level | Upgrade | Quantity |
| --- | --- | --- | --- |
| Quarters Upgrade Time | 9 | 3/3 | 4x |
Quarters Upgrades
None