'Magic-GROW' Fertilizer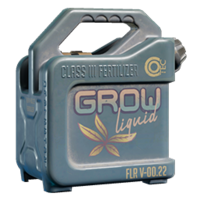 | | |
| --- | --- |
| Type | Farming |
| Rarity | Uncommon |
| Spawn Locations | [BS] [CF] [TI] |
| Weight | 7 |
| K-Marks | 338 |
| K-Marks / Weight | 48 |
| Faction Reputation | 3 |
| Faction Rep / Weight | 0 |
Magic-GROW Fertilizer is an

Uncommon item found as loot on Fortuna III. This item can typically be found inside coolers at
Osiris structures, or at Nutrion Farms Processing and Nutrion Farms Warehouse.
Description
A powerful and sweet smelling chemical, can be processed to help manufacture other items.
Don't ingest within 6 hours of consuming any fruits or nuts. Or ideally ever.
Spawn location
'Magic-GROW' Fertilizer can be found in many locations of Fortuna III. Find all of its spawns on our Interactive Map: [BS] [CF] [TI].
Specifically, it can be found in the following Loot Containers, depending on the tier. This list does not include non-container or special spawns.
Spawn chance per container

| Container | Max spawn chance |
| --- | --- |
| Hidden Stash Tier 1 | 3.04% |
| Hidden Stash Tier 2 | 2.93% |
| Hidden Stash Tier 3 | 3.05% |
| Hidden Stash Tier 4 | 3.18% |
| Hidden Stash Tier 5 | 3.3% |
| Cooler Tier 1 | 60.26% |
| Cooler Tier 2 | 30.93% |
| Cooler Tier 3 | 46.4% |
| Cooler Tier 4 | 66.13% |
| Cooler Tier 5 | 82.67% |
Uses