Welcome to the The Cycle: Frontier Wiki
The official source of documentation for The Cycle: Frontier.

Click here or press / to start searching
Contribute
Register an account and join our userbase by clicking here.
Read our Style Guide.
There is a ton of great content at the MediaWiki Help Wiki that can help you get started.
An edit doesn't have to be massive; just fixing spelling errors and broken links is enough.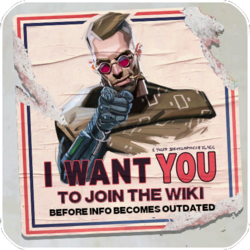 Wiki Tools
Our Wiki Tools are a collection of interactive tools and resources for The Cycle: Frontier.
Official Links
These are links to official pages from the developers of The Cycle Frontier, Yager.