| | |
| --- | --- |
| | |
To celebrate the founding of the independent The Cycle: Frontier Wiki on 18 March 2022, we are hosting a giveaway! We are proud of what TC:F Wiki has accomplished in the last year and want to celebrate this with the community.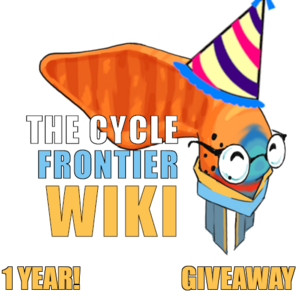 Sign up for the giveaway through google forms
Rules
Users must have a wiki account to be eligible for the giveaway.
Users that have an edit before 12:00 (CET) 18 March 2023 will have double the chance of winning.
Users can only enter the giveaway once. Duplicate entries will be discarded.
There will be a week to enter the competition, from 12:00 (CET) 18 March 2023 to 12:00 (CET) 25 March 2023.
Admins / Sysops cannot enter the giveaway.
Rewards
Three winners will be picked randomly from the users that enter the giveaway.
The winner will receive one charm or banner from the following list:
What next?
Now that you have created a wiki account, consider making a contribution to the wiki!
An edit doesn't have to be massive; just fixing spelling errors and broken links is enough.
See formatting help here.
Consider joining us in Discord to talk to other contributors.
Gallery
Conclusion
The giveaway has ended and the winners have been raffled. Congratulations to: