Frosty Frontiers Fest is a collection of events during holiday season of 2022.
Holiday Monster Bash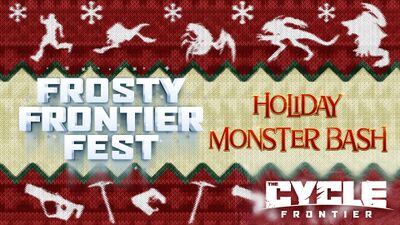 From December 22'nd and until January 5'th, there was an in-game event held for the community to hunt monsters.
How to participate 
Starting on the 22nd, Monster kills were tallied across all accounts by looking at the internal data and added to reach the final result at the end of the event.
Goals 
The community had to kill the following amount of creatures during the event:
Kill a total of 3,000,000 Striders 
Kill a total of 750,000 Rattlers 
Kill a total of 275,000 Marauders 
Kill a total of 36,000 Ticks 
Kill a total of 18,000 Crushers
Rewards
Every prospector were rewarded for the community managing to reach the milestones.
At the halfway mark the community will receive a Gingerbread Rattler weapon charm.
If the community successfully complete all objectives, the will also be a Special Holiday Weapon Coating rewarded.
Conclussion
The community managed to reach the goal and as such, the rewards will be handed out during maintenance for Patch 2.7.0.
Completion of the event was announced on discord along with the date for 2.7.0 and rewards.
Holiday Sales
On December 22'nd Aurum, Starter packs and Prime Time-pack went on sale in-game and on Steam/EGS.
Gifts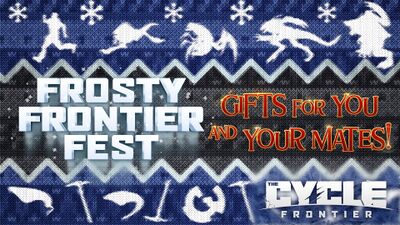 Players were able to sign up for the Newsletter from announcement of Frosty Frontier Fest, until the 21'st of December in order to receive codes for themselves and 2 of their friends that can be used to claim items in-game.
Those that signed up for the newsletter received their codes on the 22'nd.

The item codes granted players with the following items upon use:

Note: The codes can only be used once per account.
Using extra codes will still redeem and mark them as used, but it will not provide additional rewards.
Livestream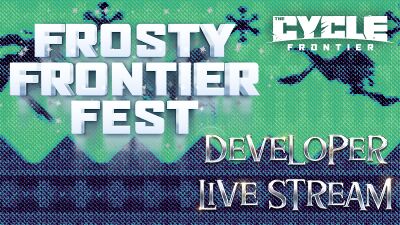 File:MainPage Link Twitch.png File:MainPage Link Youtube.png File:MainPage Link Steam.png
As part of the Frosty Frontier Fest, there was a livestream held by Yager on December 22nd at 7 PM CET / 1 PM EST on Twitch, Youtube and Steam.
The stream contained some holiday interviews and fun, lots of QnA and a bit of insight on what is going on.
Known host and guests
Our Influencer Marketing Manager Scratticus lead the stream and had some special guests:
Feralus - Community & Player Support Lead
Toast – Anti-Cheat Community Manager
Rumble – Game Designer in the activities team
Nesank – Ecom Manager
Furthermore, viewers were able to get Twitch Drops for watching the stream live.
Livestream VOD