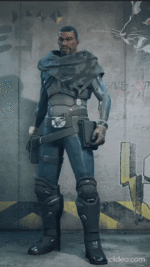 An Emote is a type of Cosmetic in The Cycle: Frontier. They are moves, dances, expressions of emotions, or other actions, such as squatting.
Mechanics
Upon emoting the camera goes to third person perspective, allowing the player to view their own emotes.
Any Prospector or Creature that would not be visible from the first person perspective is hidden in the third person perspective
Some emotes automatically end after their animation is up. Others have no time limit, and don't end until the player moves or does some other action.
List of emotes
This is an incomplete list of all emotes in The Cycle: Frontier.
| | |
| --- | --- |
| | This list makes no guarantee of availability or completeness. Some emotes might no longer be in the shop rotation, be from the Fortuna Pass of a past season, be from a special promotion, or be otherwise exclusive. |