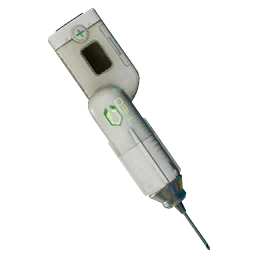 A Stim is a Consumable which heals Hit Points upon usage. There are three variants available: the Weak Stim, the Strong Stim, and the Combat Stim. The last two variants can only be bought for K-Marks after the completion of specific Osiris Missions. All Stims offer a significantly lower time to use than Medkits, but on the other hand have a lower heal per second ratio.
Description
A Stim must be in a Prospector's Inventory before it can be used. Once activated, a progress bar will be displayed above the Health Bar, indicating how long it takes to use the item. Once the progress bar has completed, the Prospector will be healed. A popping sound, a rush of noise, and a slight hiccup may be heard from the player's character. Using a Stim can be stopped by: sprinting, mantling over an object, switching to another item, or by Falling to a soft or hard landing.
Variants
Uses
This item is not used anywhere.
This item is not used anywhere.
This item is not used anywhere.